HINGES / CASEWORK HARDWARE – ALUMINUM BRACKETS

Aluminum Counter & Support Bracket
RPC Aluminum Counter Support Brackets provide strong, unobtrusive support for counter tops, work surfaces, and heavy-duty wall-mounted shelving. Available in several sizes and finishes, the brackets support a wide variety of surface types and sizes. Use of counter support brackets reduces installation costs and greatly strengthens installation of custom vanities and counter tops.
RPC Aluminum Counter Support Brackets are designed for maximum strength and installation. When attached to wall framing in accordance with manufacturer's recommendations each bracket is capable of supporting up to 450 lbs (204 kg). With proper coordination of vertical framing member locations, additional in-wall blocking may be avoided, and the brackets are easily surface-mounted following installation of wall finishes.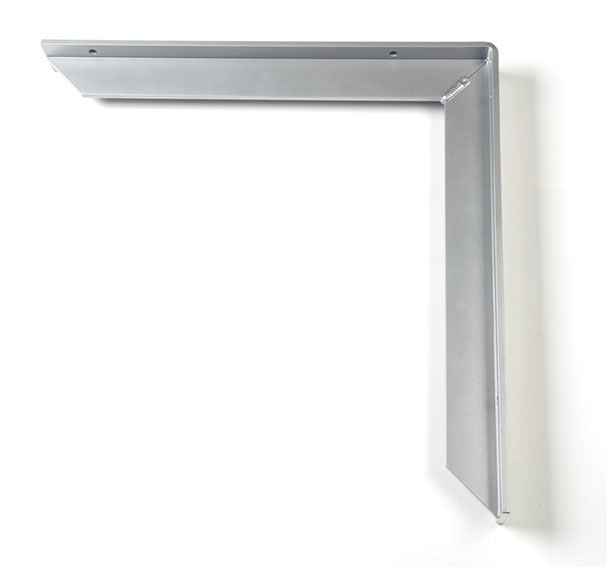 Available Sizes
The three most popular bracket sizes, 12 x12 in. (305 x 305 mm), 18 x 18 in. (457 x 457 mm), and 18 x 24 in. (457 x 610 mm) support a wide variety of surface sizes with up to a 7 in. (178 mm) overhang.
| | | | | |
| --- | --- | --- | --- | --- |
| Model No. | Surface Depth | Size | T-Extension | Weight Capacity |
| AL-1212-000 | Up to 18 in. (457 mm) | 12 x 12 in. (305 x 305 mm) | 2 x 2 x 1/4 in. (51 x 51 x 6.4 mm) | 450 lb. (204 kg) |
| AL-1818-000 | Up to 25 in. (635 mm) | 18 x 18 in. (457 x 457 mm) | 2 x 2 x 1/4 in. (51 x 51 x 6.4 mm) | 450 lb. (204 kg) |
| AL-1824-000 | Up to 30 in. (762 mm) | 18 x 24 in. (457 x 610 mm) | 2 x 1/4 and 3 x 3/16 in. (51 x 6.4 and 76 x 4.8 mm) | 450 lb. (204 kg) |
Finishes
RPC Aluminum Counter Support Brackets are available in mill finish aluminum and the following powder coat colors:
Black
White
Powder coat chrome
Dove gray
Beige
Limitations
Verify bracket size requirements with the work surface supplier to assure compliance with their support recommendations.
Sustainable Design Contributions
Low-Emitting-Material: Powder coating product meets LEED v4 low-emitting materials requirements.
Aluminum Material: Percentage of pre-consumer and post-consumer recycled content of aluminum material is available from RPC.
Reference Standards
Aluminum Extrusions: ASTM B 221 (ASTM B 221M), Alloy 6063-T6.
Coordination
Prior to installation of wall framing and wall finish, furnish dimensioned drawing to project indicating location of support brackets and showing required locations for framing members. Double studs or blocking are recommended at bracket locations. 

Bracket Installation

Install Aluminum Counter Support Brackets in accordance with RPC recommendations.
Fasten brackets securely to adequately-sized wall framing through wall finish using a minimum of 2 x 1/4 in. (51 x 6.4 mm) pan head screws with thread appropriate to either metal or wood studs. Install screws in each pre-drilled hole in the vertical leg of he bracket. "Toeing" crews where single wood studs are used is recommended to achieve adequate screw penetration.
Select sizes and type of screws for securing counter top to bracket as recommended by counter top supplier.
Availabilty
RPC products are available through wholesale distributors.
Quality and delivery are a given at RPC. We ship to many of our customers on a daily basis. We operate on a lean philosophy of simplification, small lot sizes, low inventory, continuous improvement to the process, product, and entire supply chain. Combined, we have proven ourselves to be tough, reliable, cost competitive world class manufacturers.
Warranty
Rockford Process Control, Inc. (RPC) warrants its hardware against defects in material and workmanship for a period of twelve (12) months from the date of shipment.
RPC will send the original purchaser, without charge, a new product to replace any defective RPC product subject to this warranty. RPC specifically does not warrant removal of the defective product or installation of a new product. This warranty does not cover product that have been incorrectly installed, exposed to excessive loads or abuse in any way. This warranty is a warranty of hardware replacement only. No other warranty is expressed or implied.
Technical Services
Detailed information including product literature, test reports, installation instructions, and special applications are available through RPC on our website or by calling (815) 966-2000 to speak with a technical representative.
Available Resources
RPC's Section 06 41 05 ARCHITECTURAL CASEWORK SUPPORTS guide specification for Aluminum Counter Support Brackets is available from RPC in CSI 3-part format.